We have put together a number of online advertising campaigns that have included LGBTQ+ Influencers, Key Opinion Leaders (KOLs) and Bloggers as part of our social media outreach.
We have currently teamed up with the following LGBTQ+ Influencer Networks, as well as key LGBTQ influencers, to help businesses such as yours include these cutting-edge LGBTQ+ New Media in your current online marketing strategy.
Looking to market your company and work together with key LGBTQ+ Influencers?
Call us at (323) 963-3653 or contact us here to get started.
#ILoveGay Ambassadors & Influencers
<!cfinclude template="/commonG2D/include-FeaturedAmbassador.cfm">

For more information on our Ambassador program, please review our information here.
---
<!img src="/images/ilovegay-button-purple-nohash_300px.png" width="200" alt="ILoveGay.LGBT" title="ILoveGay.LGBT" align="right" hspace="5" vspace="1" />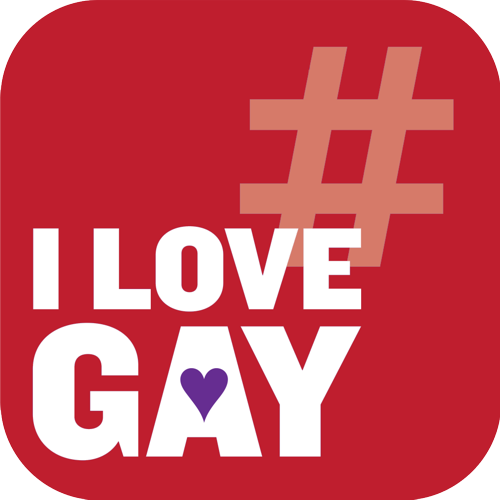 #ILoveGay Marketing Program:
The hub for online content, business, community & social media interactions related to LGBTQ+ Life
Interactive, Conversational Storytelling in 280 characters or less...
the "short form" done right leads to "long form" follow through!
What #ILoveGay does is bring together the conversations and relevant content related to LGBTQ+ Life, where we participate in and become an active part of these social media conversations out where they are happening live, in real-time on Facebook, Twitter, Instagram, etc. As a business, we are participating in these conversations, identifying which individuals and brands are strongest in this specific niche market relevant to #ILoveGay, as well as determining who are the bloggers, vloggers, influencers and various video content creators dominant in this space. Our intent and our goal is to interact with, work with and leverage their activity and user-generated content for the #ILoveGay campaign, for both our site overall and on our advertiser's behalf.

#ILoveGay's Mission
Helping to Connect the LGBTQ+ Global Community
Amplifying Your LGBTQ+ Message Worldwide
Bringing Focus to LGBTQ+ Conversations Worldwide

#ILoveGay Influencer Network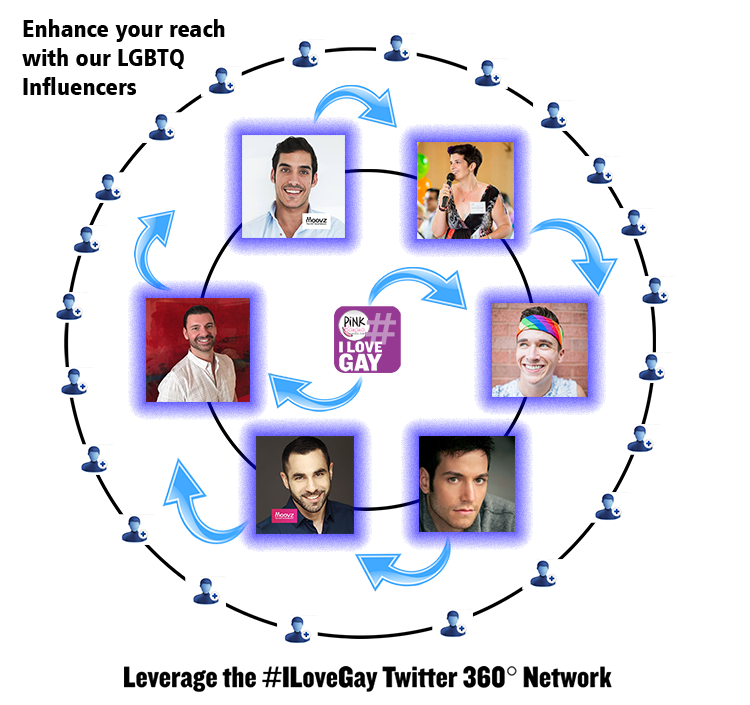 What is our goal with #ILoveGay to Consumers?
To be the Best Community Hub for all LGBTQ social conversations related to a specific region or theme.
What is our goal with #ILoveGay to Businesses? To be the Best Brand to work with when targeting the LGBTQ community online, blending influencer marketing, content marketing and social media, as well as traditional online strategies.
How Do We Do It? We find the right mix of curating, retweeting, and liking content, as well as following Twitter users, while staying "on brand". We promote content, including advertisers', at the social media post level, you know, just like an LGBT influencer would ;-)
#ILoveGay 360° Multimedia Network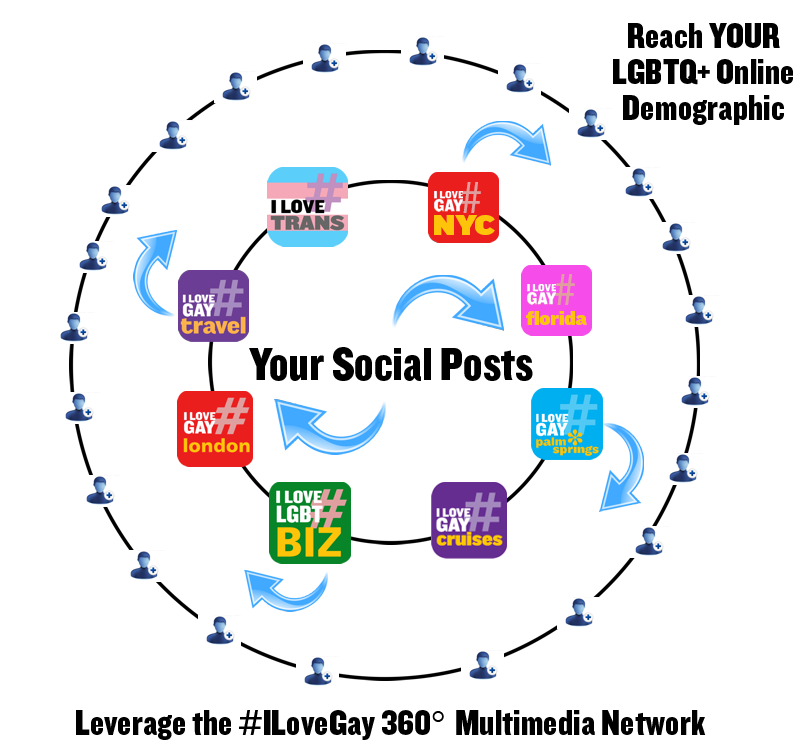 Estimated impressions and reach for Pink Media / #ILoveGay outreach
Views
Clicks
CTR
E-Mail Campaign
10,000
200
2.0%
Banner Ads
50,000
250
0.5%
Social Media Ads
20,000
400
2.0%
#ILoveGay 360° Network
30,000
450
1.5%

---

Impressions
Engagement
ER
Social Media Ads
20,000
1,000
5.0%
#ILoveGay 360° Network
30,000
750
3.5%
*Engagement: Likes, Comments and Shares / ER = Engagement Rate
*Estimate is for a $500 monthly investment in each line item above
Recent Video campaign performance
Platform
Amount
Video Views
Cost per 1,000 video views
Impressions
CPM
Twitter/X
$100
7,353
$13
17,870
$6
Facebook/Instagram
$100
2,570
$39
12,347
$8
YouTube
$100
1,836
$54
77,103
$1


Social Media Reach from our #ILoveGay social media networks (including @ILoveLGBTTravel, @ILoveGayLGBT, @ILoveLGBTBiz, @PinkMediaWorld and @ILoveGayViews) is now over 1,500,000+ followers on Twitter/X, Threads, Facebook, TikTok and Instagram combined.
Two of our more recent campaigns based on this strategy had the following performance on social media:
Campaign #1:
Impressions on Facebook (including Instagram targeting): 189,567
Engagement: 7,963
Engagement Rate: 4.2%
Link Clicks: 4,508
Cost: $0.27 per click

Impressions on Twitter: 59,504
Engagement: 3,105
Engagement Rate: 5.2%
Link Clicks: 921
Cost: $0.38 per click
Campaign #2:
Impressions (including Instagram targeting): 21,612
Reach: 12,860
Link Clicks: 624
Click Through Rate: 2.88%
Comments: 22
Shares: 29
Engagement: 675
Engagement Rate: 3.12%
Basic Demographics: 73% men, 27% women
Cost: $0.45 per click
Rule of Thumb: A $1,000 purchase in banner ads buys 100,000 impressions at $10 CPM. At a 0.1% click-through rate (CTR), clicks = 100 and cost is $10 cost per click (CPC). At a 1% CTR, clicks = 1,000 and cost is $1 CPC. For reference, Google search/text ads are typically $1-2 CPC.
---
In addition, stay abreast of what some of the top LGBTQ+ influencers, YouTube content creators and new media bloggers are up to at www.LGBTNewMedia.com, including info on various LGBTQ+ New Media Expos, Conferences and Conventions at www.LGBTNewMediaExpo.com.
Looking to market your company and work together with key LGBTQ+ Influencers? Call us at (323) 963-3653 or contact us here to get started.

Supporting Information