Pink Media has one of the few, true LGBTQ+ business-to-business set of opportunities on the marketplace today, including:
LinkedIn followers: 23,800+ followers
LinkedIn LGBTQ Advertising & Marketing group: 15,000+ members
LGBTQ B-toB E-Mail List: 16,500+ (maintained with MailChimp.com)
PinkBananaBiz.com: 5,000+ unique visitors per month

On the programmatic ad exchange, we're able to target a wide variety of characteristics unique to the world of Business-to-Business, including company size, industries, company roles and decision makers, as well as business entrepreneurs and new business start-ups. We're able to layer these data selects onto LGBTQ+ websites on the programmatic ad exchange, targeting the LGBTQ+ community's Business-to-Business market and geo-targeting this campaign to just those regions that are right for you, reaching your target market more directly than ever before.
More Info...
---

LGBTQ+ Business-to-Business Article/Press Release Distribution

Amplify Your Story | Hyper-Target Your LGBTQ+ Business Demographic
Our offer is simple. We work with you to get your story developed and then distributed via a bit of PR and a heavy dose of targeted social media.
We start with your story, in the form of an article, a video or a press releease... this serves as the foundation for this campaign. It can be an article written about your company, your product and/or your service, or even better, an #ILoveGay Today video interview. We have the writers on staff to work with you on this initial piece.
We distribute this article and/or interview using traditional PR methods, ensuring it is delivered to the right contacts at over 650 LGBTQ+ media outlets in the US and Canada. We're also able to distribute this press release through some of the more traditional PR News Wire services, including Cision, which often gets your story into Yahoo News and more.
We then combine these traditional aspects of marketing and PR and merge them with social media marketing outreach via our e-mail newsletter and LinkedIn networks outlined above, as well as via the business-to-business social media profiles within our #ILoveGay network, 750,000+ followers and growing. We also apply a portion of this budget to paid, hyper-targeted advertising on Facebook.

Cost: $4,500 for the article/interview/press release, press distribution (LGBTQ+ media AND Cision), inclusion in e-mail newsletter, LinkedIn distribution, Facebook advertising AND #ILoveGay social media distribution for 30 days.
To Get Started, Pay Online Here
Guaranteed Performance: 100,000 social media impressions of your content, minimum, in one month
Recent Client: National Pride Grant


Announcing the National Pride Grant for LGBTQIA+ Led Small Businesses
Cash grant for 25 small business founders nationwide to be used to support their business, coming June 2023

Main Content Elements:
- Main Article
(133 article page views / time on page: 3 min, 14 sec)
- PRWeb.com/Cision
Cision Visibility Report
- E-Mail Newsletter Placement
(Open Rate: 34.3% / CTR: 1.1% / Total clicks: 237)


Top PR Pick-Up:
- QueerForty.com article
- StreetInsider.com article
- Yahoo News article
- Benzinga.com article

Top Social Media Placements:
- LinkedIn Post
(2,623 impressions / 53 engagements / 4 comments / 25 shares)
- LinkedIn Group Post
(763 impressions / 36 engagements / 4 comments)
- Facebook Post
- Twitter Post
(3,598 impressions / 252 engagements / 8 link clicks)


Optional Video Press Release

We used video interviews to help create the original press release. From there, we incorporated those video interviews in with additional narration and edited them together into a single, video version of the press release.

Optional Add-On Cost: $2,500


Additional Social Media Distribution:
- LinkedIn Post
(2,027 impressions / 45 engagements / 4 comments / 8 shares)
- LinkedIn Group Post
(2,257 impressions / 88 engagements / 10 comments)
- Facebook Post
- Twitter Post
(2,802 impressions / 178 engagements / 414 full video views)


TikTok/Instagram Reels/YouTube Shorts Option:
We are seeing success in creating a variety of LGBTQ+ business-focused videos for these formats as well. They are typically shorter-form and focus on a "punchy" business message delivered within 1-minute.

- TikTok Post w/Brad Fuhr - What does 2023 hold?
(11,900 video views / 520 engagements / 52 comments / 42 shares)
- TikTok Post w/Brad Fuhr Intro
(8,800 video views / 768 engagements / 32 comments / 30 shares)
- Instagram Reel w/Brad Fuhr
(1,514 video views / 181 engagements / 5 comments)


NOTE: these are all "organic", non-paid posts
---
Some LinkedIn Performance Examples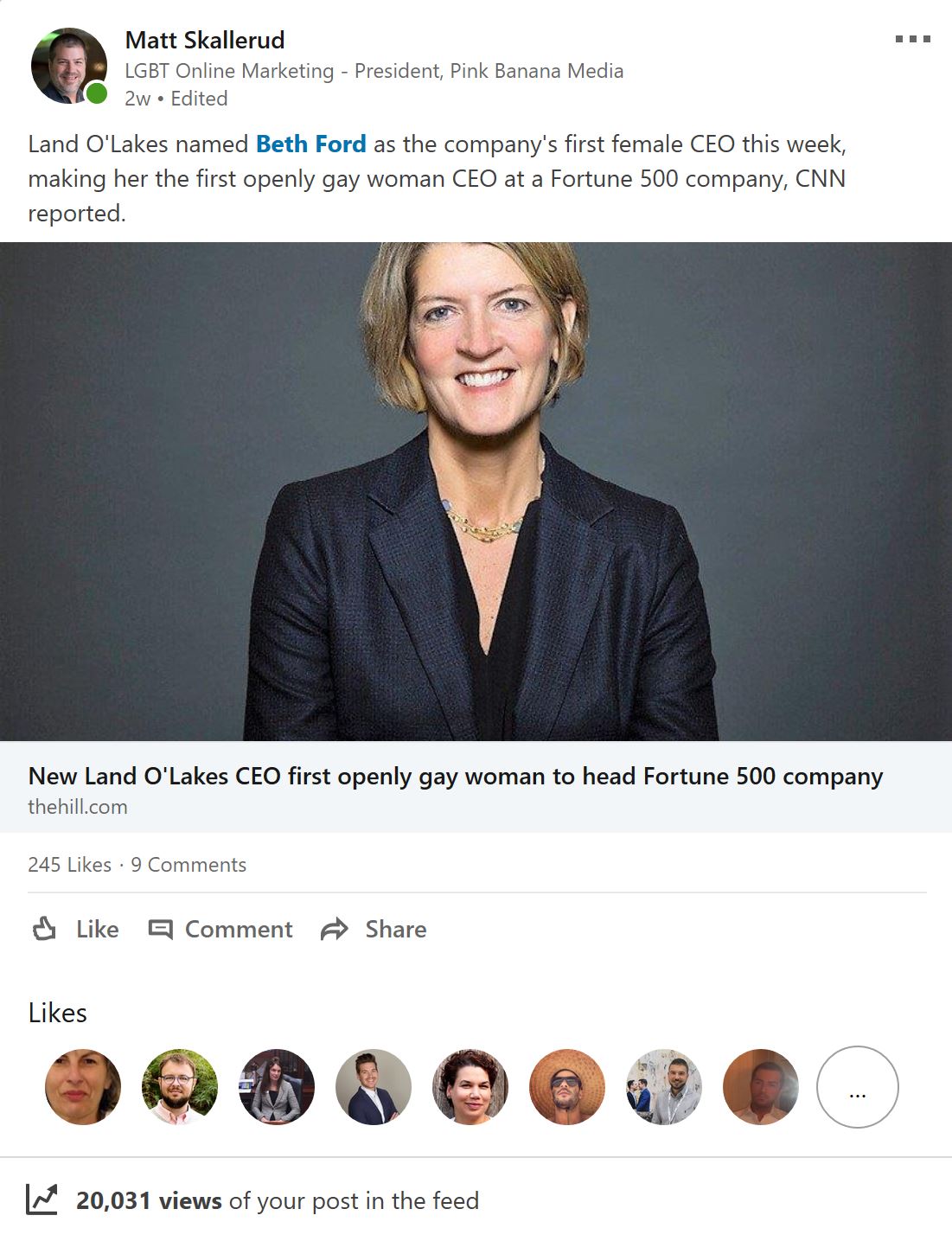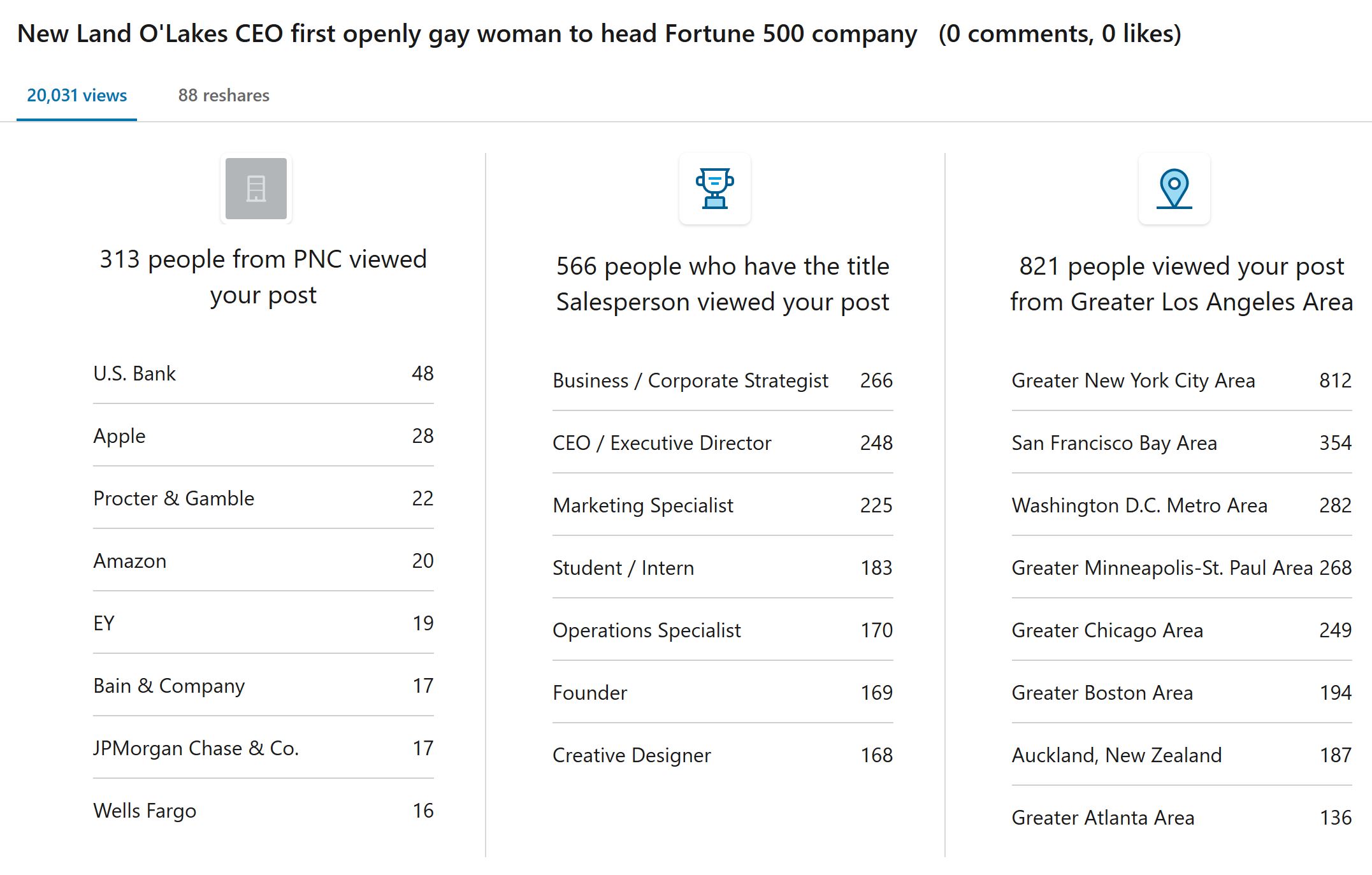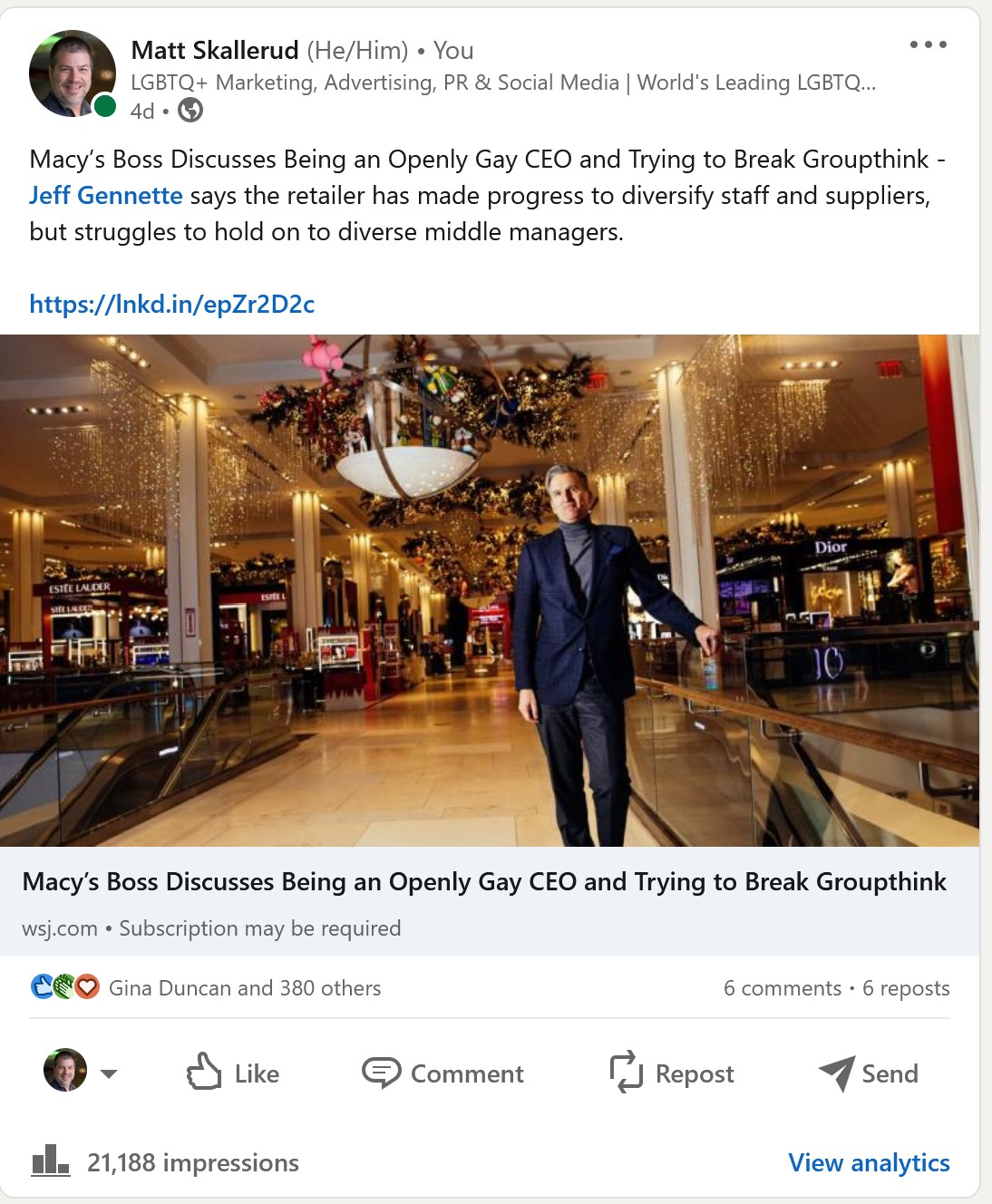 <!img src="/images/LI_whotel.jpg" height="425"> <!img src="/images/LI_comcastsf.jpg" height="425"> <!img src="/images/LI_jetblue.jpg" height="425">
---
Looking to market your company to an LGBTQ+ business-to-business audience? Call us at (323) 963-3653 or contact us here to get started.

Supporting Information