HOME | Markets | LGBTQ Employment, Jobs, Diversity & Inclusion
There are a variety of ways in which we can market to LGBTQ individuals, allies and companies focused on Diversity & Inclusion in the workplace.


#ILoveGay Twitter 360° Network
Featuring our Strategy & Focus on LGBTQ and LGBTQ-friendly Diversity & Inclusion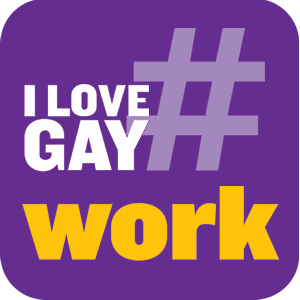 Do you have a diversity & inclusion-themed product or service that you'd like to promote to those in the LGBTQ community who have shown an interest in diversity & inclusion online? Let us help you spread the word and increase your organization's online visibility at the same time! Using our #ILoveGay Twitter 360° Network, we're able to bring your message to one of the strongest LGBTQ diversity & inclusion audiences online today, broadcasting your message via our primary Twitter profile in your niche market, @ILoveGayWork. We will also broadcast your message based upon WHERE your business may be focused on at the moment, such as @ILoveGayNYC, @ILoveGayLA or @ILoveGayLondon.
For more specific information on how this program and campaign works, check out our in-depth description here, as well as our market opportunities here. For a little Twitter 101, take a look at this article, as well as our welcome article here.
#ILoveGay Diversity & Inclusion
---
Looking to advertise to this target LGBTQ audience? We work with any budgets (starting at $500 per month)... call us at (323) 963-3653 or contact us here to get started.
---
Supporting Information